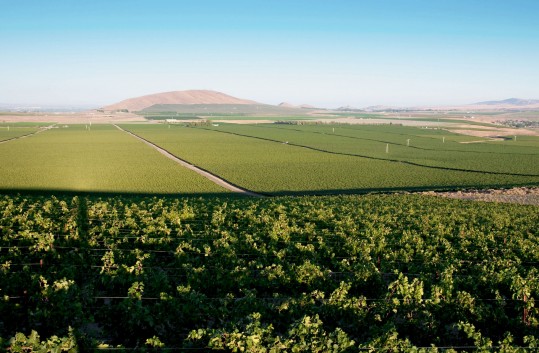 Welcome to Stonecap Wines
StoneCap Wines are handcrafted entirely from estate grown grapes from the renowned Goose Ridge Estate Vineyard in Washington State's Columbia Valley. This expansive (1,900 acres) and highly regarded vineyard allows the Monson Family to produce stunning quality wines while remaining sensibly priced.
StoneCaps
Washington State's famed Columbia Valley produces extraordinary grapes in large part due to the area's great soils—the result of massive flooding during the last Ice Age. Light and porous, these soils are frequently wind-blown, and the windy tops of the many high hills and ridgelines of the region are typically devoid of soil leaving a "stonecap" of rocks behind.
The Monson Family
The Monson family has been farming the Columbia Valley for over four decades and developed Goose Ridge Vineyard in 1999 under the guidance of Dr. Walter Clore, the "father" of the Washington wine industry. The Monsons, along with veteran winemaker Kendall Mix, are dedicated to limited production, handcrafted wine and meticulous vineyard practices.
Goose Ridge Vineyards
Goose Ridge Estate Vineyard is located on the ridge of Goose Hill, across from Red Mountain in the Columbia Valley where the Yakima River converges with Red Mountain and Horse Heaven Hills. The vineyard has gentle, south-facing slopes and warm temperatures. The Monson Family planted the vineyard in small blocks to produce high quality estate-grown wines. The 1,900 acre vineyard is planted to Cabernet Sauvignon, Merlot, Chardonnay, Riesling, Viognier, and Pinot Gris.